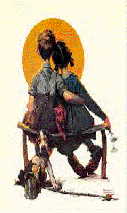 Ron and Cindy met in late winter 1983 while attending a midweek lecture sponsored by the singles organization, Parents Without Partners. They were both acclimating themselves to the challenges of single parenting. They were initially attracted to one another primarily because of the degree of comfortableness they experienced while engaging in conversation together. It appeared that they were the only couple in the room, as they shared dialogue on the sofa, when actually, their peers were mingling in a crowded social atmosphere.

Julie and Jeff first became acquainted with Ron on the subsequent Saturday morning. Ron had arrived early on the doorstep of their apartment bearing paper grocery sacks laden with boxes of sweetened cereal, fresh milk, and assorted junkfood.

A courtship ensued based upon friendship and family inclusiveness. There was an aura of apprehensiveness, though, as the couple began to experience feelings of love toward one other. As Spring progressed, Ron penned his intentions of matrimony on one of his personal business cards. He promptly hand-delivered it to Cindy's teller window in the local bank where she worked. Cindy accepted his proposal and on May 28, 1983, the couple wed in the same church where Ron's parents and grandparents had been joined in marriage years before.

Ron and Cindy faced new challenges as they crossed the threshhold of forming a "blended" family. Their inexperience as step-parents was evident as the couple tallied the dismal scores on a series of relational set-backs, blaring defeats and miniscule victories. The pair's shining, idealistic vision of family unity was shadowed by the storm clouds of reality constantly looming overhead.

While in the midst of enduring these reconstructive struggles, Ron became aware of God calling him into ministry. After much prayer and discernment, Ron and Cindy responded by taking a true leap of faith; not fully realizing all that waited ahead, only trusting in God's plan.

Since that time, Ron has become an ordained clergy within the United Methodist Church. He has ministered to fifteen parishes in eight Ohio locations. Recently, Ron and Cindy purchased a home and have selected Delphos, Ohio as their place of permanent residence.

Cindy has maintained secular employment over the years while shepherding along side her husband. Additionally, she attended college where she studied psychology.

Ron and Cindy are gratified that Jeff and Julie have remained the loving, responsible, intelligent individuals they were as teens; and have emerged into the empowered, empassioned, mature adults they are today.

The couple is equally proud and pleased with the addition of Leslie and Dwayne into their envisioned Eden. One of Ron's most prized possessions is an ID bracelet, engraved simply, "Grandpa," a treasured gift from Chase and Chelsea.

As a couple who has accumulated shared memories of only the most recent seventeen years, Ron and Cindy have learned to make every moment spent with family (and each other) really count. Their advice to other couples is to always look forward. Be willing to go where life leads you. Learn from the past without dwelling upon it. Don't fret over family traditions that once were - instead, invent new ones. Expect something positive to evolve from every situation. Reason and be reasonable. Most importantly, find occasions to love, to laugh, and to learn.